Delivery Times and Shipping

Delivery is only $10

AUSTRALIA WIDE

for all orders!
To make your purchasing decision easier, no matter what you want to buy, wherever you want to send it - we'll only charge you $10 for delivery within Australia.

Nationwide Spares has a massive amount of listed appliance spare parts - covering almost everything that is available in Australia! So while we do have a massive stock holdings, we can't keep everything on our huge website in stock. If you need a more specific ETA, or want to check if an item is in stock, please contact us before ordering.
Stock items can be sent out right away, same or next day. Other items must be ordered from the supplier, where the ETA can be affected by a wide range of factors (often out of our control). Here are some general guidelines for how long it will take to get your order: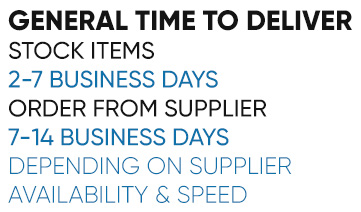 These general rules apply most of the time - but with the wide variety of parts on offer the delivery time can sometimes take longer.
Factors Affecting Order-In ETAs
We always aim do our part of the delivery ASAP - it's what we're best at. Unfortunately parts of the supply chain are out of our control. We will place our order with the supplier within the same day, and send it out within 24 hours of receiving it. In the spare parts industry the delivery from the OEM parts providers can and will take time. Thank you for understanding as we work with our suppliers to get your order as quickly as humanly possible. Some examples of causes for supplier delays are:
Lack of Availability
Overseas Supply of Part
Operational Delays or Supplier Warehouse Changeovers
Supplier Errors
Just ask us if you have any questions or queries about the process, but sometimes appliance spare parts providers can take their time. If your order is under time constraints be sure to check with us before ordering.
Orders Placed on Weekends
All orders placed on Friday, Saturday or Sunday will be processed on the following working day (generally a Monday unless a public holiday coincides).
New Zealand Shipping Costs
The default delivery charge to New Zealand is $30, but we reserve the right to change this for especially large or heavy items. Items are shipped via Australia Post. If you have any questions about the process, please contact us.
Processed orders
When we receive your order, we send it through to our warehouse to pick and pack. At that time we mark the order 'processed'. That does not mean the order has been shipped yet. When it has been shipped to you, you'll receive an email from our logistic facility people telling you the courier details and the tracking number of your parcel